Specialist coatings and treatments
We are providers of specialist metal treatments and coatings steel, aluminium, brass and other materials including:
Hot zinc spraying
Powder coating
Shot peening and finishing with:

Glass bead
Graninox
Aluminium oxide
Ceramics
Plastics
Wear, scratch and corrosion resistant

Our PVD coating, developed by our partner Double Stone Steel, is an innovation in the creation of coloured stainless steel making the surface ten times harder and more durable in the process. This is produced through the process of PVD (Physical Vapour Deposition) Titanium Ion Plating which improves the performance of stainless steel by increasing wear, scratch and corrosion resistance.
Our PVD coating colours can be applied to all grades of stainless steel sheets and profiles. Sheets can be etched and two colours can be applied to a single sheet to give a two-tone finish.
Our PVD coating can also be applied to small fittings. We can supply proprietory fittings or take customer's own stainless steel fittings to treat with PVD coating to any colour of your choice. We also work with suppliers and manufacturers in enhancing existing product ranges with additional colour selections.
---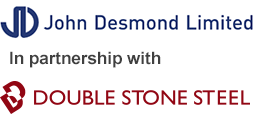 PVD coated coloured stainless steel standard colours
PVD Availability and Suitability
PVD coloured stainless steel is available in all colours and finishes as sheet material see sizes.
PVD coloured stainless steel is suitable in all colours and finishes for interior use.
Use filters to check suitability of PVD for profiles and exterior use.