Case study: Wood Lane: Creating the first new London tube station on an existing line for 70 years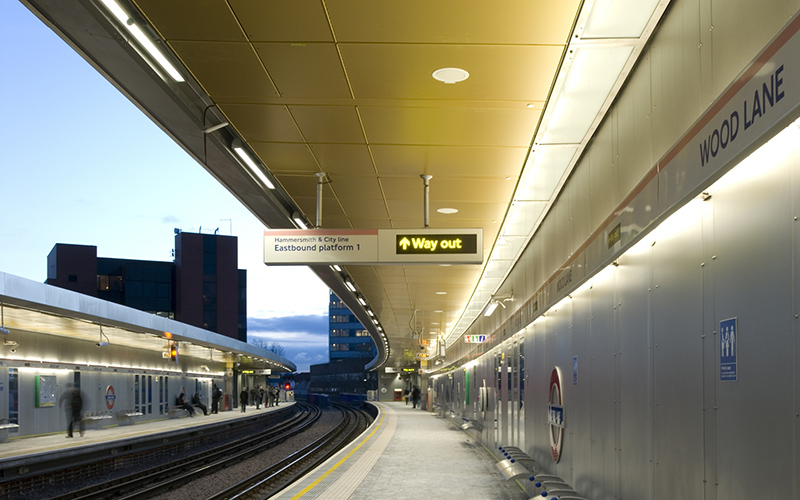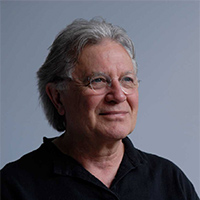 With the development of the Westfield Shopping Centre and the drive to improve public transport to the Shepherds Bush area, a new tube station to serve the area was required. Wood Lane has been constructed on a line which has been operating since 1864, the Hammersmith & City line, and opened in 2008 at a cost of £200m. Work on site commenced in 2005 and opened in 2008. The station won the HSBC Rail Business Awards for Station Excellence in 2009.
John Desmond Ltd were selected to provide architectural metalworks for this project by Ian Ritchie architects who were commissioned to design and manage the project.
Pre-fabricated off-site and installed at night
The site was severely constrained by being positioned above a Central Line cutting and adjoined by other properties on either side of the nineteenth-century brick Hammersmith & City viaduct. With two adjacent train lines still in constant use, this meant that nearly all work had to be carried out at night, during what is known as "engineering hours", between 1.30 and 5.30 am. This meant that all elements had to be pre-fabricated off-site.
John Desmond's role has been in fabricating and installing the metalworks which have been core to creating the distinct style of this very modern station. Gordon Talbot, lead designer from Ian Ritchie Architects said of John Desmond's work "We have used John Desmond Ltd on a number of projects as they are always consistent in the extremely high level of quality and finish of their products. Additionally, we knew that John Desmond, with their reputation for handling difficult installations, would be able to meet the challenge of installing the metalworks during the very restricted access to the site"
Maintenance walkway and external stair, with in Nylon R-AG coating
An industrial looking structure that gains a James Bond-esque air of intrigue when illuminated.
Talk to John Desmond Ltd about developing your design concepts.
Request a finish sample of stainless steel mesh.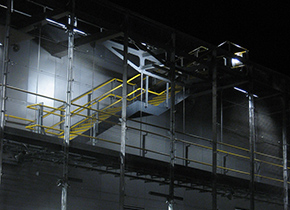 The maintenance walkway and external stair at night with the mesh screen backdrop
Stainless steel mesh veil
The facade facing the Central Line is a 100 metre long stainless steel mesh veil that acts as both safety screen and backdrop to the maintenance area.
See another John Desmond project using stainless steel mesh.
Talk to John Desmond Ltd about your requirements for security screens, mesh and grilles.
Request a sample finish of coloured or natural stainless steel.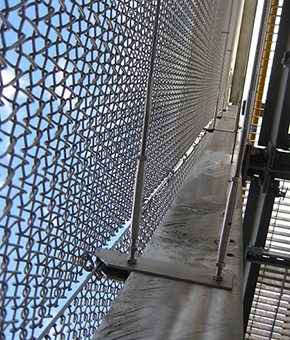 100m stainless steel mesh veil acting as a safety screen
Platform seating
The seat is a pared-back design in stainless steel, wall-mounted. A very strong material that will withstand the use of thousands of passengers per day without the surface becoming damaged.
Talk to John Desmond Ltd about your requirements for street and transport furniture.
Request a sample finish of coloured or natural stainless steel.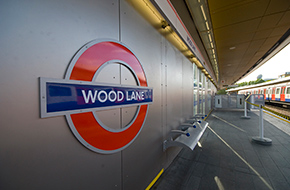 Stainless steel platform seating
Anodised gold ceiling and shot-peened stainless steel cladding
A striking ceiling achieved by anodising aluminium to a gold colour. Aluminium is very light and does not rust so is a good material to use for ceilings. Shot peening, used on the stainless steel cladding, creates a finish that is non-directional and strengthens stainless steel in the process.
Talk to John Desmond Ltd about your requirements for ceilings and cladding.
Request a sample finish of coloured anodised aluminium or shot-peened stainless steel.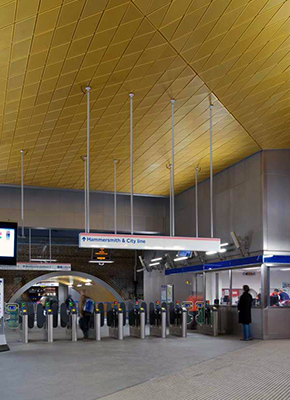 Gold anodised aluminium ceiling to ticket hall.
Handrails
Handrailing for steps and walkways with Nylon R-AG coatings which has a warm-to-the-touch feel and much longer lasting than powder coating.
Talk to John Desmond Ltd about your requirements for handrails and balustrades.
Request a sample finish of Nylon coating.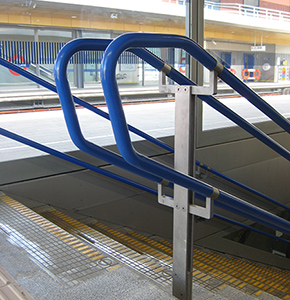 Nylon coated handrail