CE Certification for Structural Steelwork
ISO 9001
ISO 14001
OHSAS 18001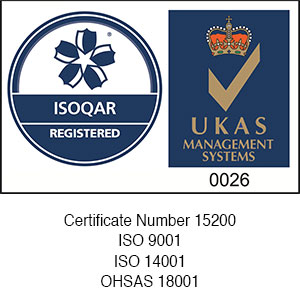 The following internationally recognised standards ISO 9001, ISO 14001 and OHSAS enable us to CE mark our Structural Steelwork under the Construction Products Regulation (CPR).
The ISO 9001 standard for quality management provides customers with confidence that we are providing a management framework that is continually improving business practices and helps us provide services and products that meet our customers' expectations.
The ISO 14001 standard for environmental management of our business prescribes controls for those activities that have an effect on the environment which include energy consumption, the use of natural resources and the handling and treatment of waste.
The OHSAS 18001 is awarded for the best practice of Occupational Health and Safety management. This demonstrates that we are taking proactive steps to ensure that we comply and stay up to date with appropriate legislation and provide a safe place to work and visit.