V Grooving and folding of sheet metals
V-Grooving
V Grooving creates decorative grooves, channels and shadow gaps.
V-Grooving allows for sharp bends to be created from sheet material creating profiles that give the appearance of a solid material.
Solid, or bar, metal is both more expensive to purchase and creates wastage once shaped. Bending sheet material is a more cost-effective alternative.
Materials that can be V-Grooved
Brass
Bronze
Copper
Aluminium
Stainless steel
PVD coated coloured stainless steel*
Mild steel
Iron
Gold
*PVD coloured stainless steel can be V-Grooved and folded without any damage in appearance to the PVD coating. Therefore PVD sheet material is ideal for V-Grooving and folding as a cost-effective alternative to Brass, Bronze, Copper, Gold and Iron.
---
Benefits of V-Grooving
Speed – a V-Groover can machine more grooves in one hour than a traditional milling machine or router can perform in eight hours. This means it is cheaper in the cost of labour and large volumes can be handled in relatively quick timescales.
Accuracy – the V-Groover is set to a highly accurate measurement – so much so that a grooved sheet could be put through a second time with no deviation or alteration to the first groove. This means very precise and small profiles can be fabricated.
No wastage – channelling out solid bar material creates waste from an expensive commodity. V-Grooving and folding creates minimum waste and is on average a tenth of the cost of working with solid bar metals.
Precision folding – V-Grooving allows for folding to a tight radius, creating sharp bends.
See comparison of V-Grooved and folded profile with non V-Grooved profile
Groove shape options – V-Grooving can be created not just in one shape of V. Wider V, semi-circular and square grooving is also possible allowing for a range of design variations.
See alternative V-Groove shapes
---
Call Ian on +44 (0) 20 8946 8295 to discuss profiles for your project.
A selection of architectural applications for V-Grooving and folding
Elevator entry areas
Button panels, cladding panels and trims are created from V-Grooved and folded metals.
Wall cladding systems
Cladding panels are V-Grooved and folded to create a depth to wall panels. For close butting-up the V-Grooving and folding allows for a visually seamless effect.
Retail fixtures
This decorative display fixture has been created using V-Grooved and folded PVD coated coloured stainless steel in Copper.
Elevator interiors
This elevator cab interior is created from panels with V-Grooved and folded edges.
Exterior cladding detail
These decorative exterior panels are created using V-Grooved and folded PVD coloured stainless steel in Bronze. The edge-folds give depth and the look of a solid material.
Hotel and restaurant detailing
V-Grooved and folded stainless steel creates the appearance of solid brass bar detail.
Typical profiles created by V-Grooving and folding
Capacity
Our V-Grooving machine has the following capacity.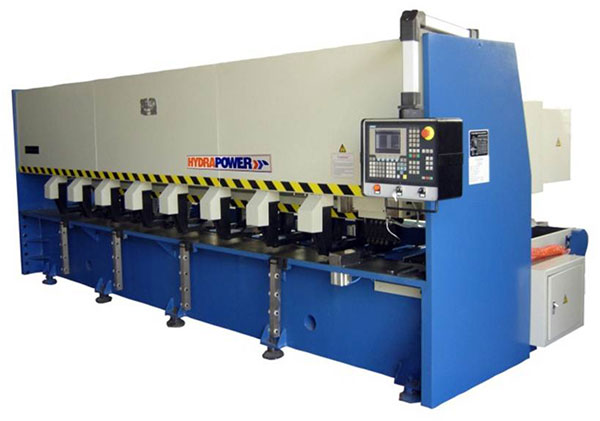 V-Grooving machine capacity
| | |
| --- | --- |
| Model No . CNC4M | 4M |
| Sheet Size –Width "Y" | 1.2M / 48″ |
| Sheet Size –Length "X" | 4M / 158″ |
| Thickness range | 0.8mm to 6mm / 0.031 to 0.250″ |
| Table height | 660mm / 26″ |
| Cutting speed | 10 to 20M / Min. / 400 to 800″ / Min |
| Tool cutting capacity "Z" | 2.25 square mm / 0.06 x 0.06″ |
| Z Axis min. feed | 0.01mm / 0.0004″ |
| Sheet feed positioning Y | 0 to 2M /min. 0 to 80″ /min |
| Sheet feed accuracy Y | 0.01mm / 0.0004″ |
| Clamping | Pneumatic operated full length clamps |