With the purchase of the semi-detached property 54 Bedford Gardens and its adjacent mews house, Jonathan Pirie, Managing Director of Bancroft Heath, a building firm, had something very special in mind for its redesign.

Jonathan wanted to create a unique, high-end, luxurious home aimed at the prime central London market. After lengthy deliberation it was decided to create a single dwelling from the two properties and dig out a vast basement area to connect the two. This provided the space for a large entertaining area to include a swimming pool and media room and also a garage to provide much-needed parking. The excavation of the basement would take sixty weeks and take the programme for the whole project to a nerve-wracking duration of two and a half years.
Aspiring to the perfect colour
Central to the design of the property was the main staircase. Jonathan wanted an impressive design and finish however did not want to use an overtly "show off" material. He wanted a material that conveyed the quality of brass but to be a lot less yellow. He also wanted the staircase to be contemporary but to have a softer look than plain stainless steel. Overall the staircase needed to fit with the overall design which, although highly contemporary, is quite a gentle scheme in natural colours.
Introducing PVD coated coloured stainless steel
Given this "brief" John Desmond produced samples of a selection of colours in PVD coated coloured stainless steel. The colour Almond Gold was ultimately selected, a soft, creamy gold unique to this project and being not as bright as brass and not as "industrial" as stainless steel. This was used with a stained oak handrail and natural stone for the treads and landings.

Request a sample of Almond Gold PVD coated stainless steel

Come to our PVD, drinks and canapés evening as part of The London Design Festival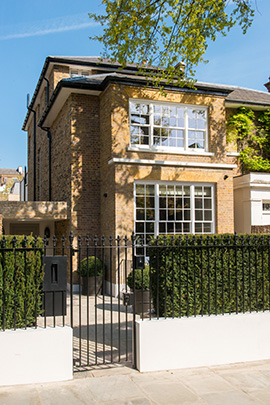 The exterior of 54 Bedford Gardens, Notting Hill, London.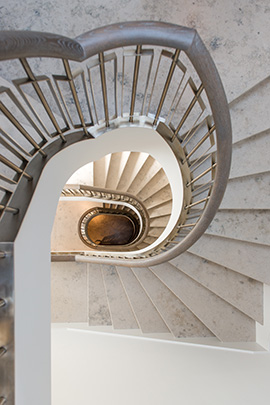 Looking down through the centre of the helical staircase.